by FrankLee Anatra
---
FrankLee Anatra was born into the world of Second life on March 3, 2008.
He was originally created as an alt for Fleef Fimicoloud. Fleef was making clothing and avatar accessories for the virtual world and needed a willing subject to model his creations.
One day a dear friend of Fleef's, Stormy Harker, heard a song Fleef had recorded. She liked it and suggested to Fleef that he might want to play his guitar and sing live in SL. Never having known such a thing was possible, Fleef thought about it and came to the conclusion that it was a great idea. He would try his hand at putting on a show. But what to do with such an unconventional name as Fimicoloud? Most people he'd met couldn't even pronounce it — heck even he didn't know if he was pronouncing it correctly. So, after some pondering an idea came to him: use FrankLee Anatra!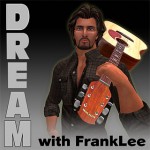 FrankLee has been playing live performances in Second Life ever since April, 2008. Since then he's taken the stage at countless venues — some of SL's finest — and appeared in-world on "Tonight Live with Paisley Beebe", "Spotlight TV with Scorpinosis Nightfire" and "Kaek's O's" televisions shows, being interviewed and performing some of his original music live.
It has been a very fun ride. He's had the great fortune of meeting many wonderful people from all over the world and considers himself to be the luckiest avatar in all of the ether!