April 6, 2014
by JBird Melodie
---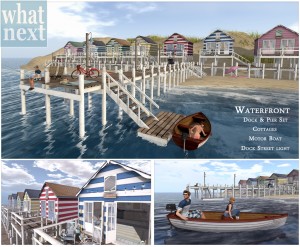 Hey Dreamers!  Time for an update!  Not sure if everyone knows but The Home Show is going on right now for the whole month of April!  Frank and Winter have an exhibit there for What Next so if you are on the grid and looking for something to do, be sure to  check it out!!
Today we have two events and opportunities to catch up with FrankLee!  Frank has been off for almost a week so he is ready to come back and sing his heart out for us!
This morning at 10am slt, FrankLee will be at The Gateway.  The Gateway is having a Silent Auction which closes bidding at 12 noon so be sure to head over early and take a look around. The art exhibit has 5 floors so there is plenty to see!  The artwork was generously donated by the artists to help raise money to keep The Gateway running for all to enjoy.
Later tonight at 6pm, FrankLee will perform again making his debut at the KuTuKa Bar!  This sim is really fun with the beach and so many cool places to hang and chill!  We will be waiting for you at the bar drink in hand!  See you there!